Polish Government communicates the rules the RES auction System. The situation becomes more clear but it also becomes obvious that solar projects are not the winner.
Trends
The Polish Ministry of Economy just announced the rules for the implementation of the upcoming auction system. There will be a total number of three auctions taking place from 2016 to 2018. Potential investors can expect to realize a power sales price ranging between 85.6 USD/MWh and 124.3 USD/MWh. The Government expects that the three auctions are sufficient for reaching RES goals set out by the European Union.
Therefore, the volume of green energy contracted from RES sources during 2016 will be quite impressive. During 2016 the Polish Government intends to subscribe to an energy capacity of 50.5 TWh for a PPA period of 15 years. This decision results in an annual contracting capacity of 3.4 TWh. For "non-stable" RES sources like photovoltaics and wind the Government allocates a two (2) TWh piece out of the total cake of the predefined 50 TWh. Considering the low efficiency of solar as compared e.g. to wind one can assume that there is very little chance for PV projects to gain a considerable share in the auctioned project capacity.
For photovoltaic projects, the Polish Ministry of Economy does not define any quota but it is intends to have realized smaller PV projects only. These projects should utilize direct subsidies as a source of financing.
The Figure "Mean Prices and Project Volume: RES Auction 2016" is giving an insight into the pricing, cost and capacity of the upcoming auction. It is also showing the capacity cost for smaller projects of up to 10 kWp.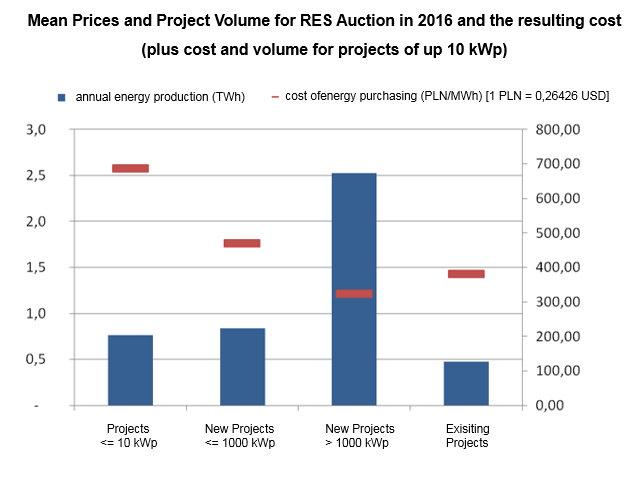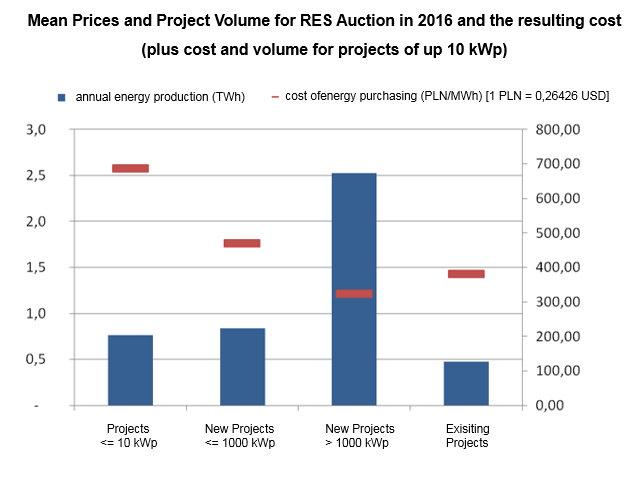 Figure: Mean Prices and Project Volume: RES Auction 2016
Projects up to one (1) MWp are supposed to cover one quarter of the total RES cake – equaling 841 GWh/year. Smaller projects of less than one (1) MWp are supposed to get an energy tariff of 124.3 USD/MWh.
If projects have more than one (1) MWp of capacity they are most likely going to get an energy price of 85.6 USD/MWh.
Considering the discussed energy tariff and the built-in energy efficiency of solar projects, one has to conclude that it will become very hard for solar to win against the competitors in the RES auction race. This will disappoint many investors who have invested and have been waiting for years already.